AND REFERENCE LINKS


This charming new book is by the Virginia author Frank Levering, who runs a Patrick County cherry orchard (now 100 years, still a family business) and helps his wife Wanda Urbanska produce the PBS show "Simple Living TV".
Frank's new book introduces urbanites to "country culture"... with Frank's warm welcoming style, sharing the unwritten rules by which rural people live and get along..

Order a copy from Amazon Books or Barnes & Noble.
For bulk sales of 72 books per case: please email your request to Albemarle Books.

BOVINE & EQUINE

Virginia Polytechnic Institute & State University (Virginia Tech)

Virginia Tech College of Agriculture & Life Sciences

Virginia Tech Department of Animal & Poultry Sciences

Virginia Tech Dept of A&PS Equine Program, headed by Dr. Ann Dunnington and Dr. Rebecca Splan, both of whom have attended the Bundoran Belgians Driving School

Virginia Department of Forestry

Virginia Department of Game & Inland Fisheries

Virginia Draft Horse & Mule Assn. Lots of really good draft horse links here!

Virginia Horse Council
VirginiaEquestrian.com is a weblisting of many Virginia trainers, breeders, suppliers, etc.

The Albemarle County Fair is located at Bundoran Farm, near North Garden VA

AGRICULTURE, HORSE & CATTLE PUBLICATIONS:

The Carriage Association of America publishes the Carriage Journal, an excellent monthly glossy magazine on coaching, carriages and restorations.

Draft Horse Journal is the must-subscribe magazine for draft horse enthusiasts

Driving Digest Magazine is a nice monthly that covers all aspects of driving: pleasure, draft, CDE, shows, etc. Very nice, and all-inclusive.

Small Farmer's Journal interesting philosophical approach to animal-powered agriculture. Full of wonderful technical articles about the use and repair of antique agricultural equiipment.

HORSE DRIVING CLUBS:
Shenandoah Valley Driving Club, pleasure driving in the valley: contact Neil Robichaux or call (540) 377-6719

James River Driving Club: drives carriages in Richmond and around central Virginia. Contact Dot Ruqus at 804-556-4486 or Cheryl Childress at 804-784-0001

Potomac River Driving Club, meets around northern Virginia: contact Marged Harris or call her at 540-338-4354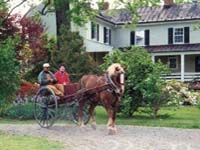 HORSEBACK TRAIL RIDES: Gordonsville, VA. David & Sally Lamb, 434-832-3350

Harmon's Hayrides offers rides and weddings in the Washington DC area.

Blue Ridge Institute & Museum in Ferrum, near Roanoke, offers presentations of Appalachian history and culture. Roddy Moore is the curator; his wife Sally breeds champion Percherons.